Regular price
Sale price
$62.00
Unit price
per
Sale
Sold out
Clinically-formulated lightweight, liquid serum instantly absorbs to target skin dullness and uneven texture. For smoother, more even and radiant skin. The unique time-release delivery system gently distributes micro doses of ultra-refined, non-irritating Vitamin C all day long, making it suitable for all skin types.
Bearberry Leaf | CoQ10 | Vitamins A&E
Awards
2023 Essence Best In Black Beauty
2023 Good Housekeeping Beauty Award for Best Radiance Serum
Product Details

What It Is

A clinically advanced serum formulated with 20% Vitamin C complex to visibly target dullness plus uneven skin tone and texture. Gently delivers potent Tri-C Pro-Peptide Complex™ in micro doses to prevent irritation. Dermatologist tested. Clinically proven.

Skin Types

Normal, Oily, Combination, Dry and Sensitive

Skin Concerns

Dullness and Uneven Texture

Clinical Results

• 100% of users felt this serum instantly absorbed well
• 93% said this serum immediately improved the look of dull skin
• 97% of users noticed this serum improved skin's radiance and luminosity after 4 weeks of use
• 97% of users agreed this serum made skin softer after 4 weeks of use
• No irritation was observed by clinicians for any subject during 8 weeks of testing
Key Ingredients

Clinically-formulated blend of vitamins and antioxidants including:

• Tri-C Pro-Peptide Complex™- a skincare breakthrough that blends peptides with 3 pure, stable forms of Vitamin C: L-Ascorbic Acid, Tetrahexyldecyl Ascorbate and Sodium Ascorbyl Phosphate. Supports a tight, healthy, glowing, collagen-rich look.

• Vitamin A - helps create brighter, smoother-looking skin.

• Vitamin E - boosts performance of Vitamin C and supports skin-barrier balance to guard against oxidative stress.

• CoQ10 - moisturizes and strengthens skin against the effects of free radicals.

• Bearberry Leaf Extract - helps brighten and even the skin tone, providing a clear, even appearance.

View All Ingredients

View Less Ingredients

Methyl Trimethicone, Tetrahexyldecyl Ascorbate (Vitamin C), Cyclopentasiloxane, Trimethylsiloxysilicate, Ascorbyl Palmitate (Vitamin C), Ascorbic Acid/Orange/Citrus Limon/Citrus Aurantifolia Polypeptides, Ascorbyl Glucoside, L-Ascorbic Acid (Vitamin C), Sodium Ascorbyl Phosphate (Vitamin C), Palmitoyl Tripeptide-28, Phyllanthus Emblica Extract, Arctostaphylos Uva Ursi (Bearberry) Leaf Extract, Mixed (Citrus) Terpenes, Ubiquinone (Coenzyme Q-10), Tocopheryl Acetate (Vitamin E), Superoxide Dismutase, Phospholipids, Alpha-Arbutin, Retinyl Palmitate (Vitamin A), Purified Water, Phenoxyethanol
How To Use

How To Use

This is Step 3 in your routine. Apply 3-4 drops of serum and massage over clean face and neck. Use 1-2 times daily.

Complete Your Routine With:
Step 1 Vitamin C Hydrating Cleanser
Step 2 Vitamin C Brightening Pads
Step 3 Vitamin C Eye Revitalizer
Step 4 Vitamin C Radiance Moisturizer

For external use only. When using this product keep out of eyes.

How To Recycle

• Product carton, bottle and lid are recyclable in most US cities*
• Remove cap from bottle and place into appropriate recycling bin
• Wash any product residue from the bottle and place into appropriate recycling bin

*Recycling guidelines vary by region. Please review your local recycling program for more info.
Share
View full details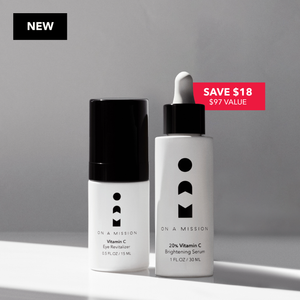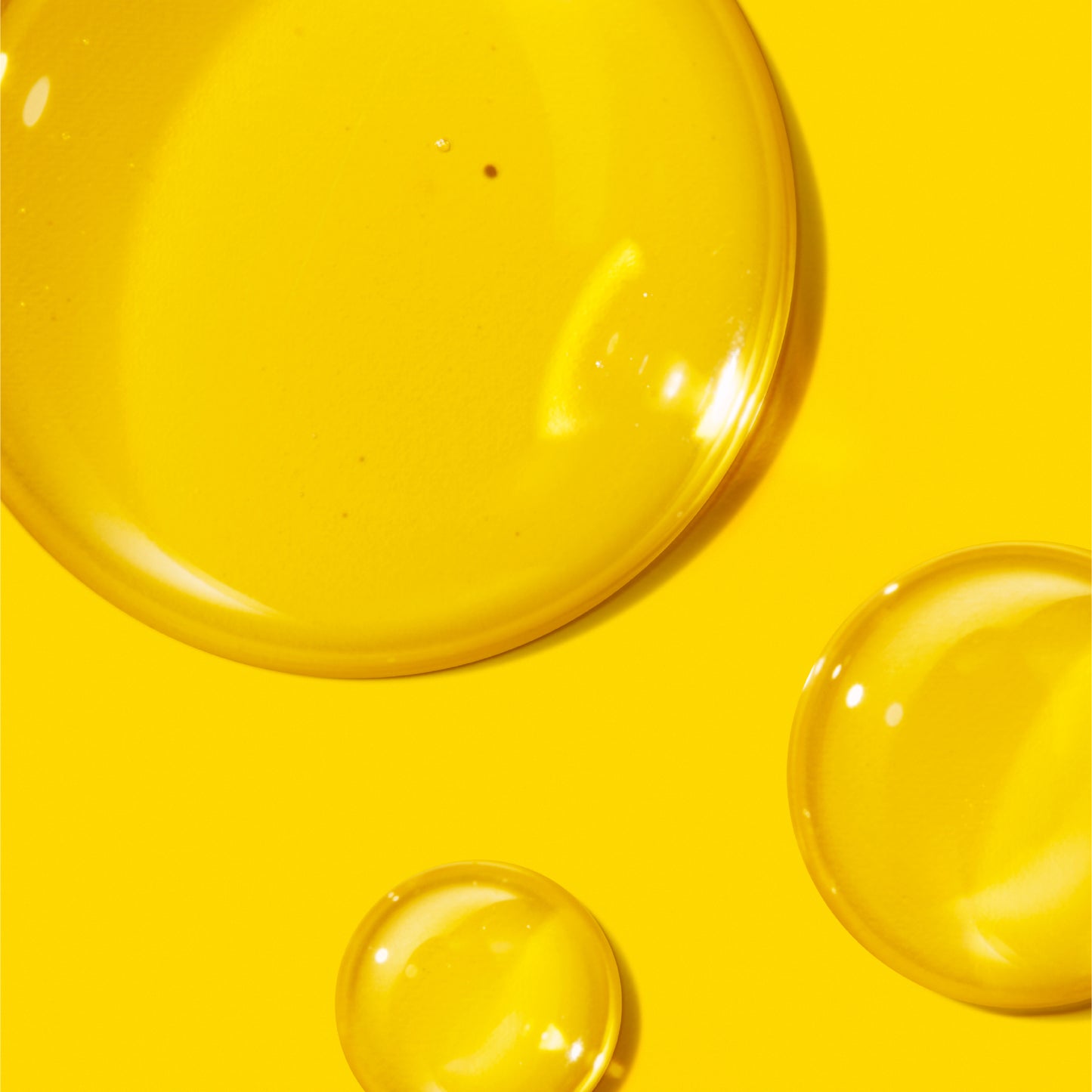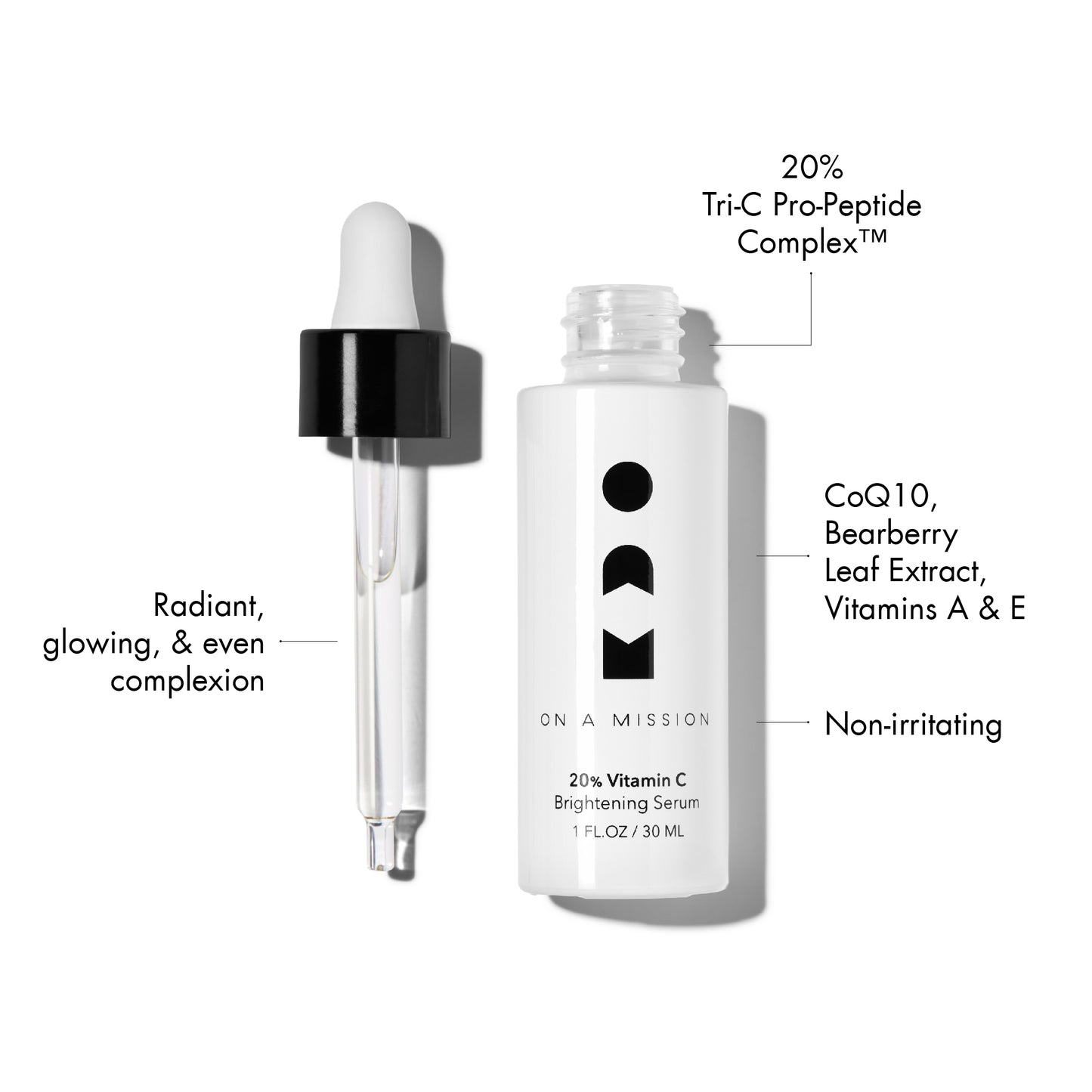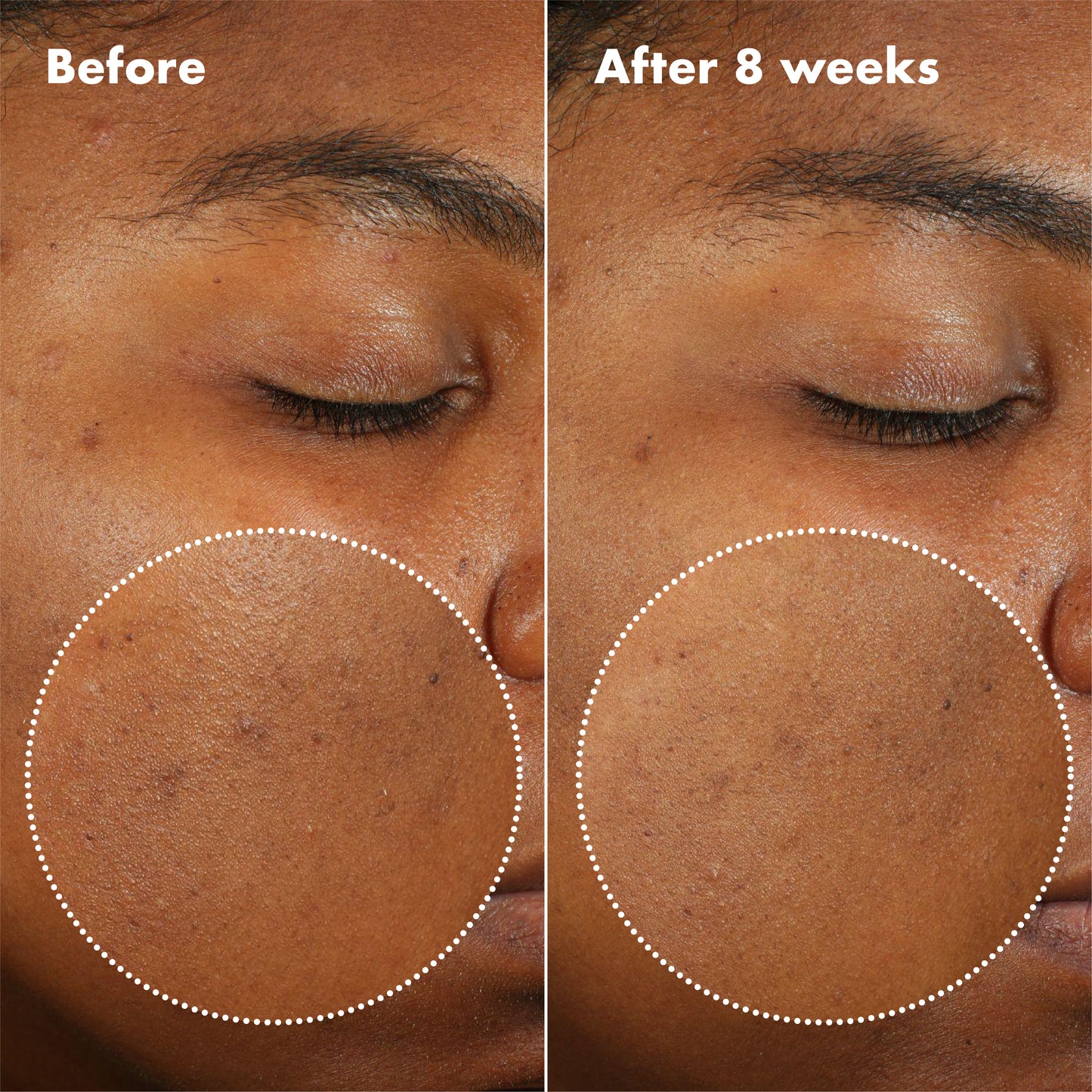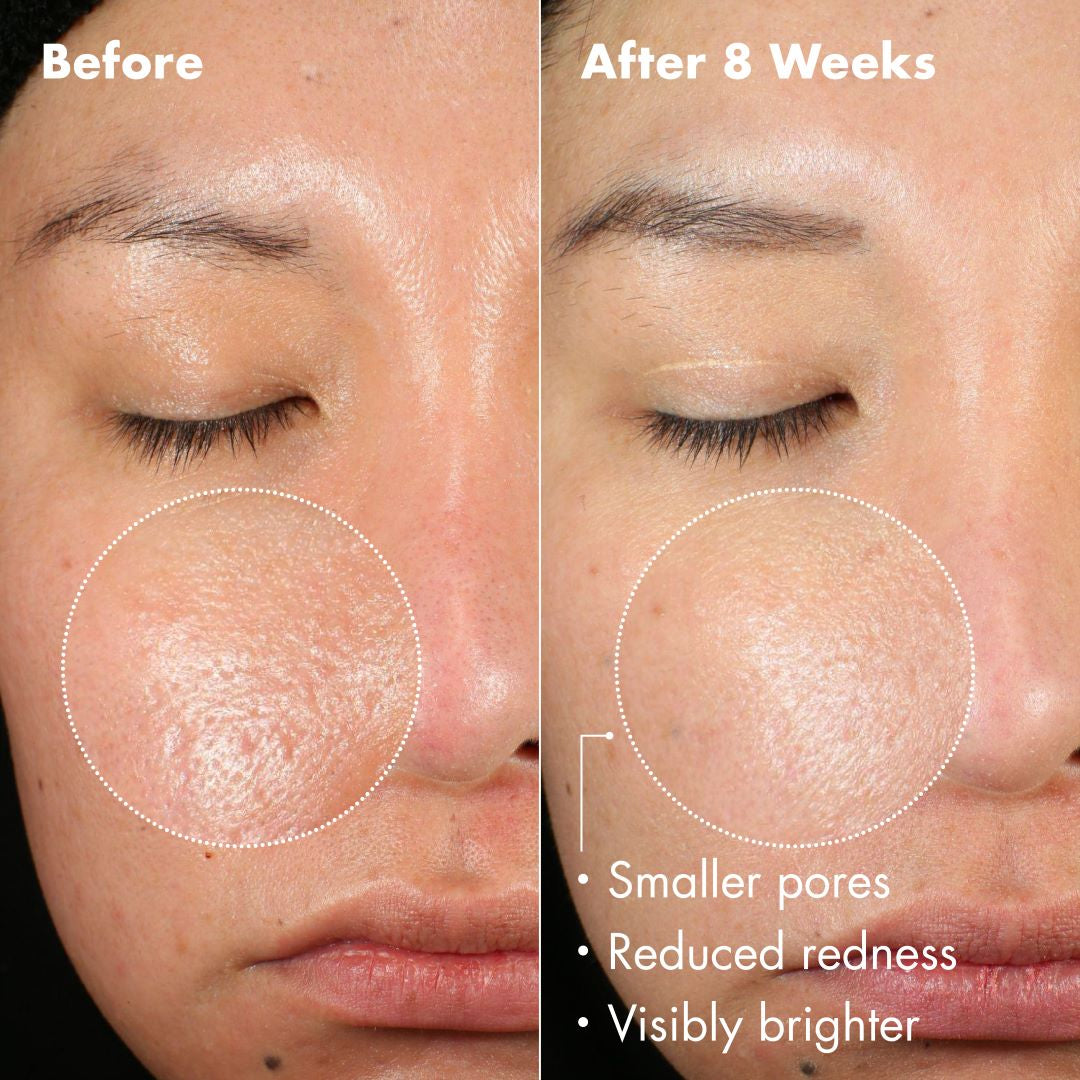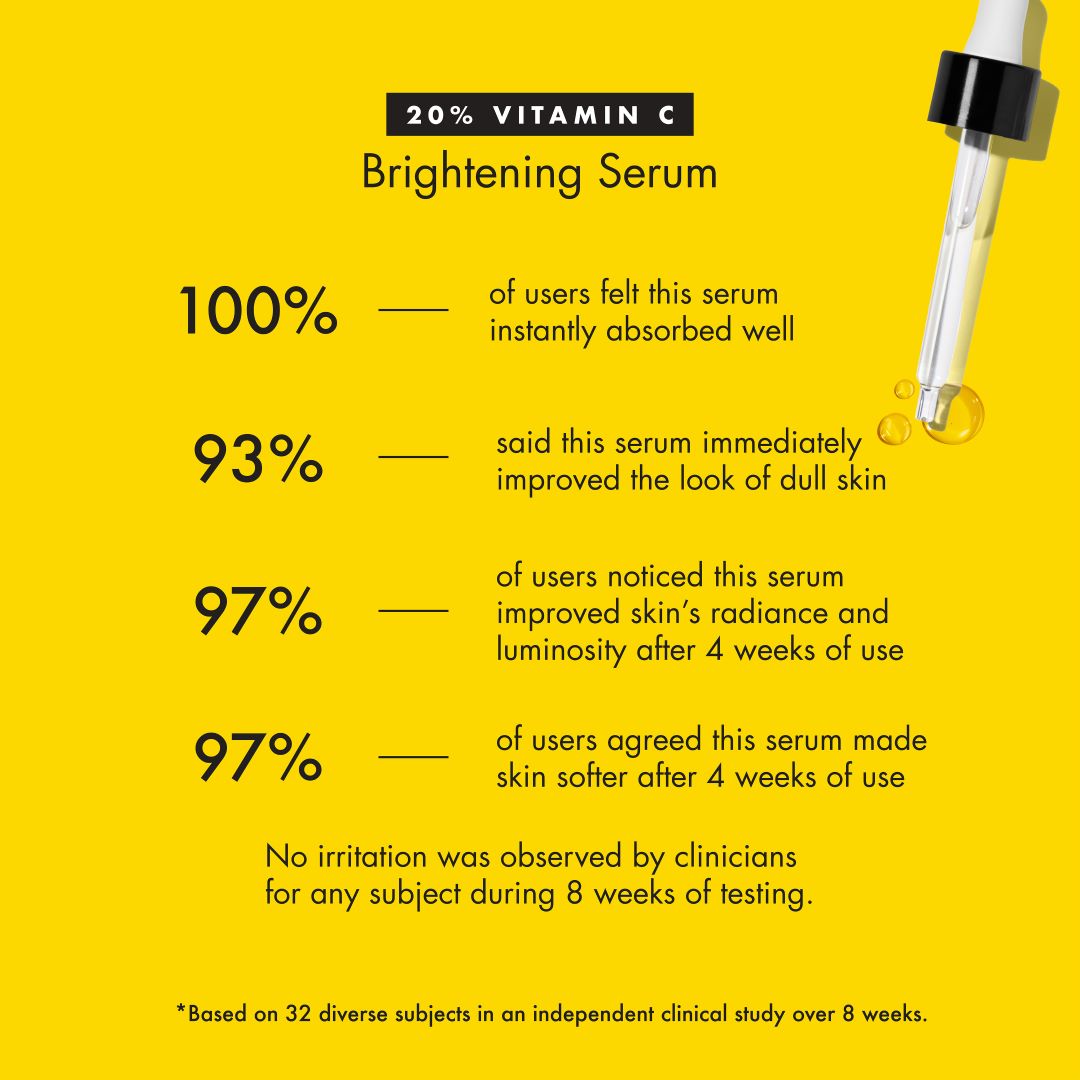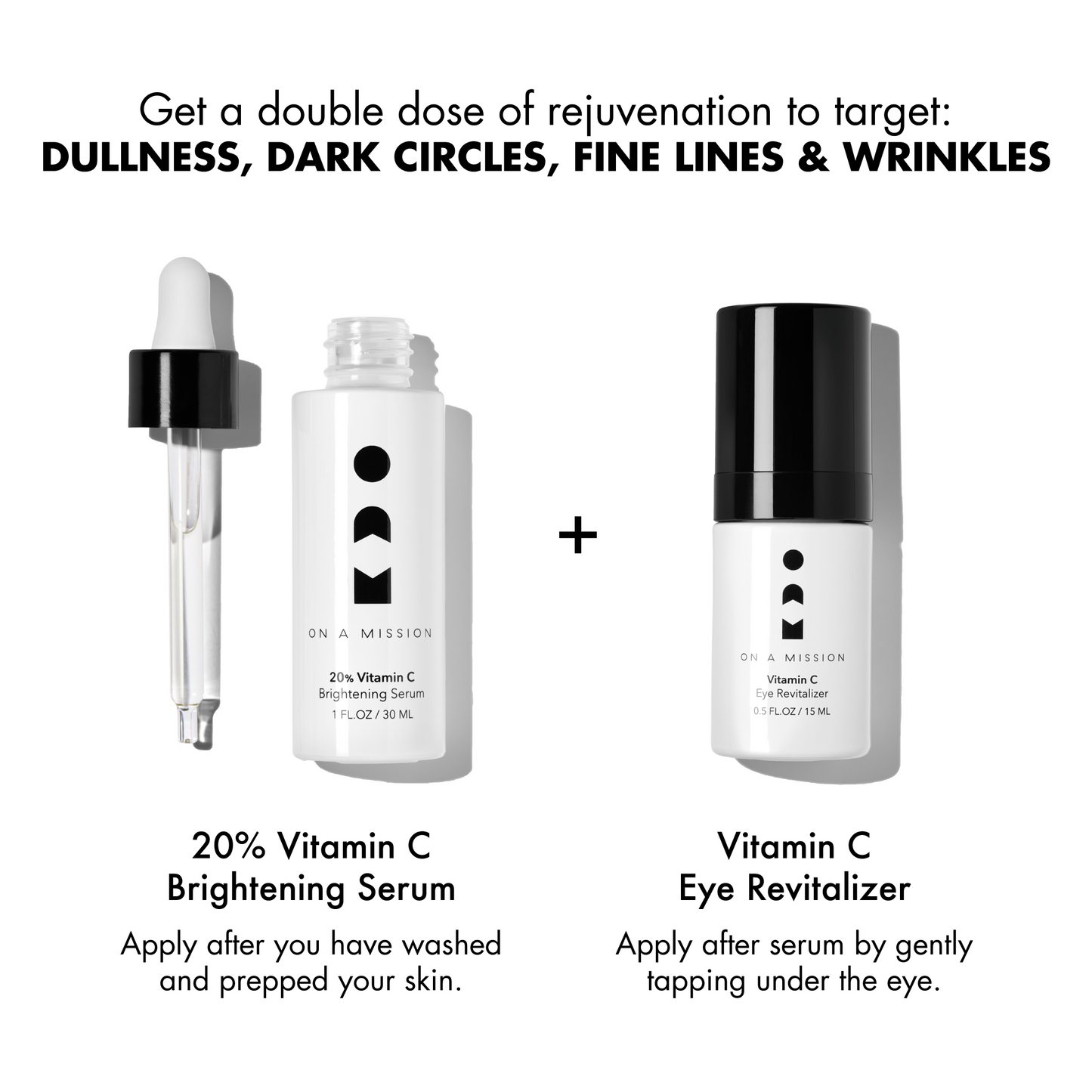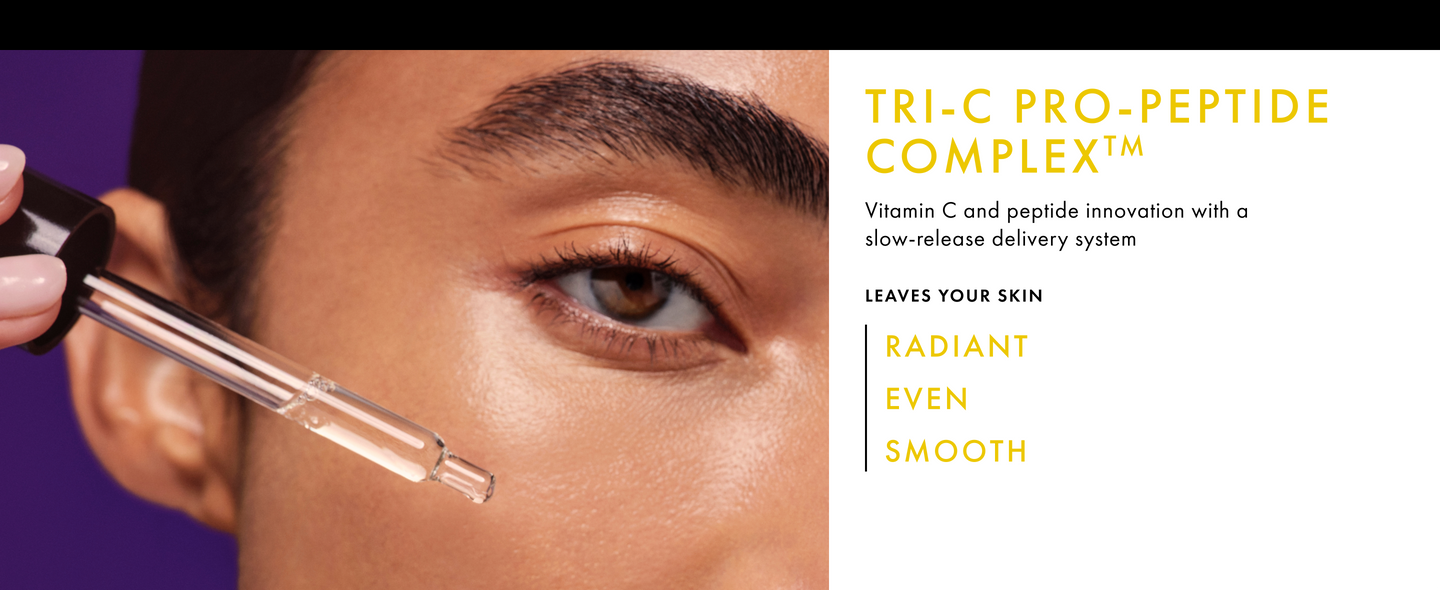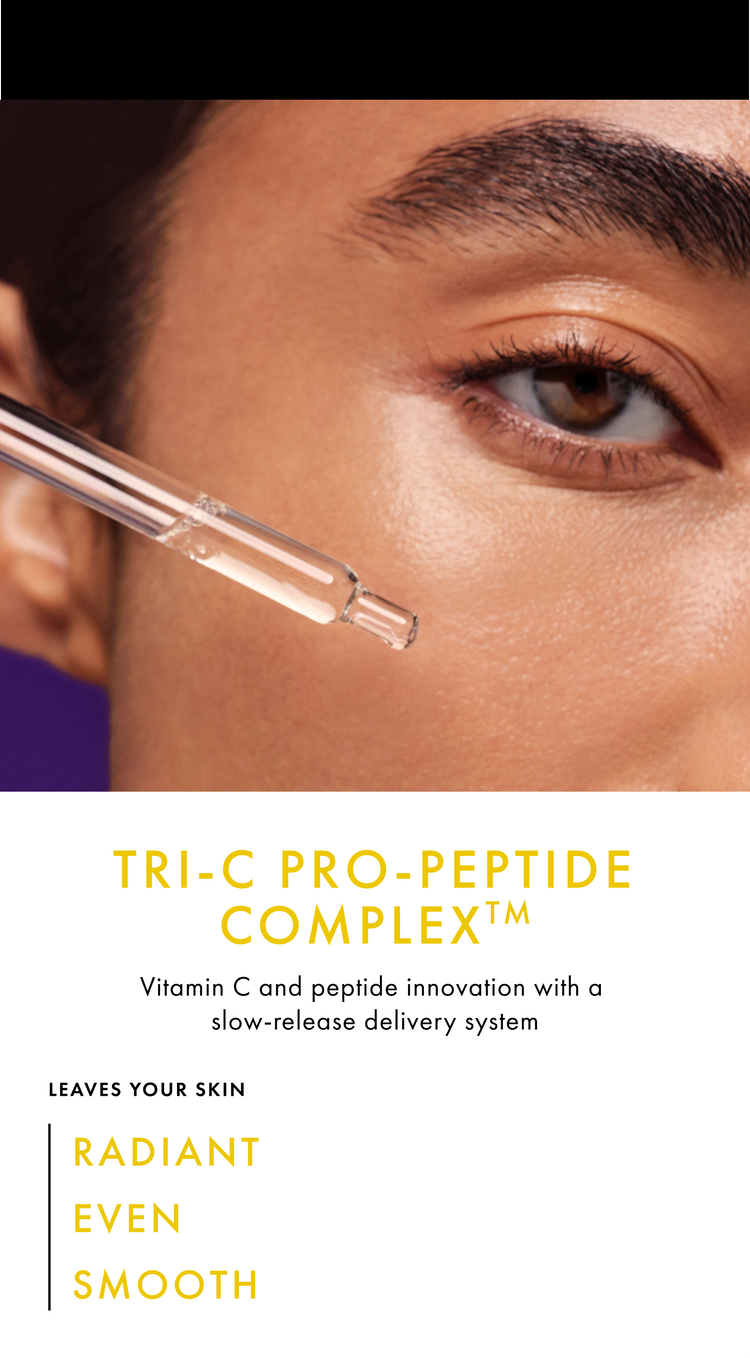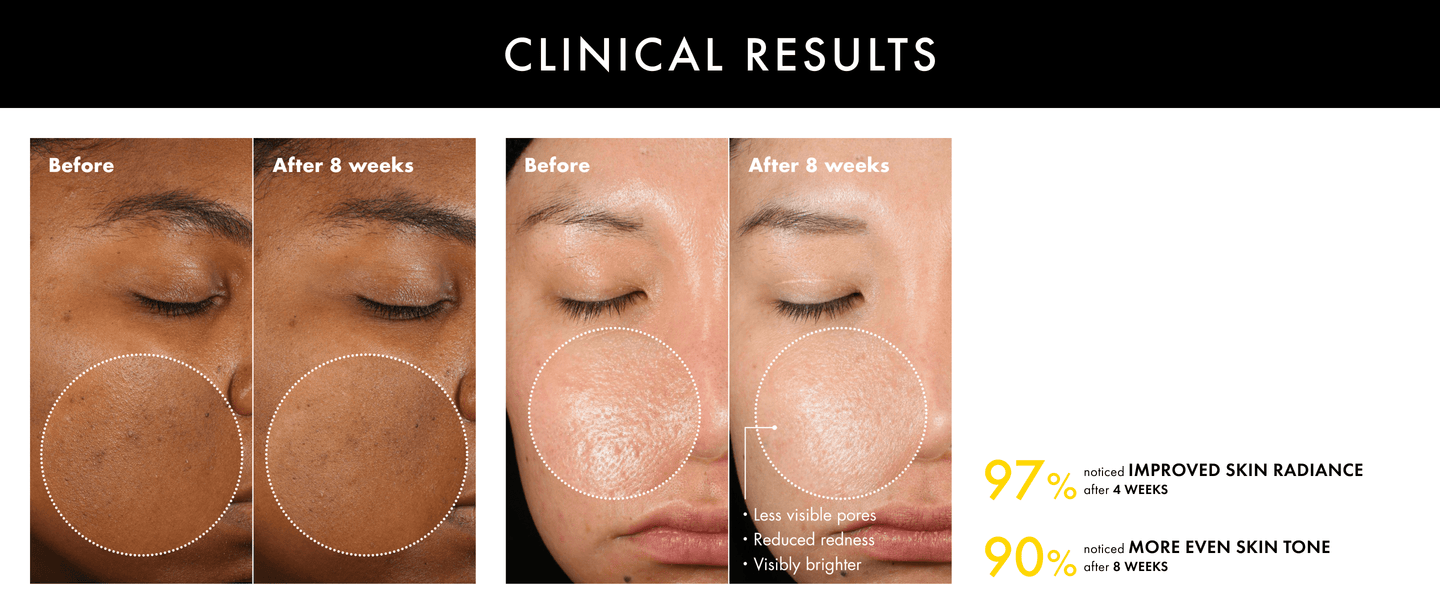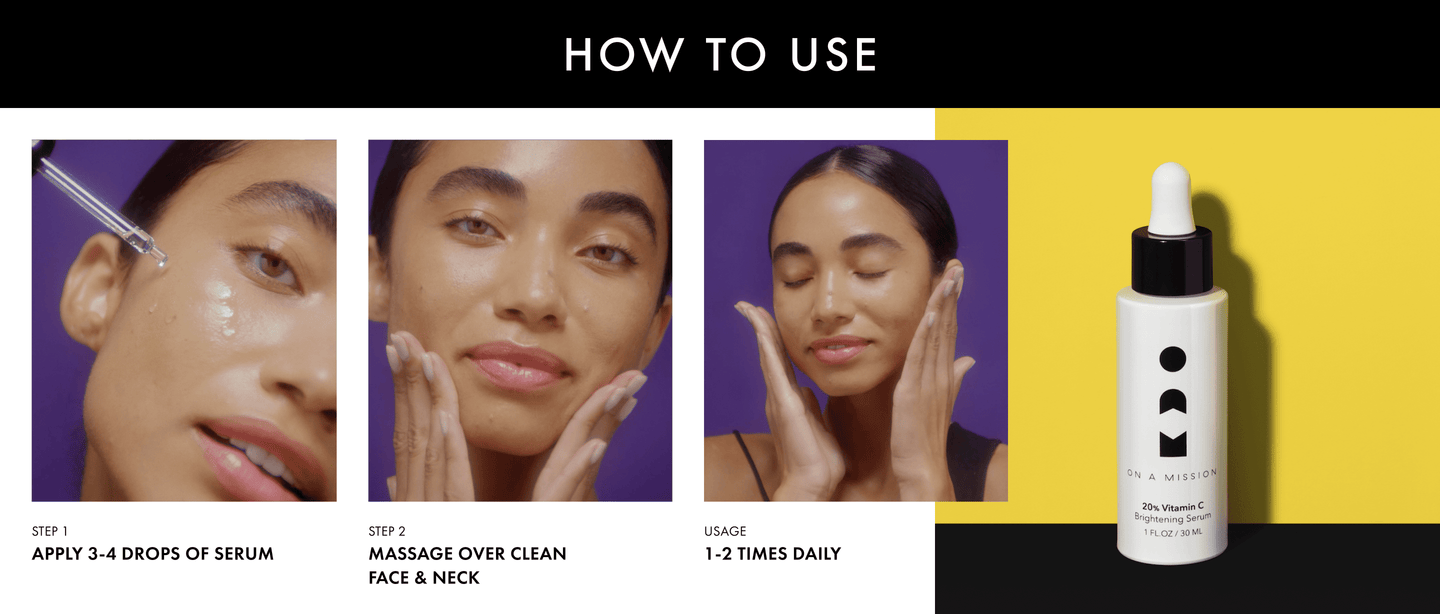 • FRAGRANCE & DYE-FREE • NO FILLERS • PARABEN & SULFATE-FREE • GENTLE • CRUELTY-FREE • RECYCLABLE PACKAGING
• FRAGRANCE & DYE-FREE • NO FILLERS • PARABEN & SULFATE-FREE • GENTLE • CRUELTY-FREE • RECYCLABLE PACKAGING
• FRAGRANCE & DYE-FREE • NO FILLERS • PARABEN & SULFATE-FREE • GENTLE • CRUELTY-FREE • RECYCLABLE PACKAGING
• FRAGRANCE & DYE-FREE • NO FILLERS • PARABEN & SULFATE-FREE • GENTLE • CRUELTY-FREE • RECYCLABLE PACKAGING
• FRAGRANCE & DYE-FREE • NO FILLERS • PARABEN & SULFATE-FREE • GENTLE • CRUELTY-FREE • RECYCLABLE PACKAGING
• FRAGRANCE & DYE-FREE • NO FILLERS • PARABEN & SULFATE-FREE • GENTLE • CRUELTY-FREE • RECYCLABLE PACKAGING
• FRAGRANCE & DYE-FREE • NO FILLERS • PARABEN & SULFATE-FREE • GENTLE • CRUELTY-FREE • RECYCLABLE PACKAGING
• FRAGRANCE & DYE-FREE • NO FILLERS • PARABEN & SULFATE-FREE • GENTLE • CRUELTY-FREE • RECYCLABLE PACKAGING
• FRAGRANCE & DYE-FREE • NO FILLERS • PARABEN & SULFATE-FREE • GENTLE • CRUELTY-FREE • RECYCLABLE PACKAGING
• FRAGRANCE & DYE-FREE • NO FILLERS • PARABEN & SULFATE-FREE • GENTLE • CRUELTY-FREE • RECYCLABLE PACKAGING
• FRAGRANCE & DYE-FREE • NO FILLERS • PARABEN & SULFATE-FREE • GENTLE • CRUELTY-FREE • RECYCLABLE PACKAGING
• FRAGRANCE & DYE-FREE • NO FILLERS • PARABEN & SULFATE-FREE • GENTLE • CRUELTY-FREE • RECYCLABLE PACKAGING
• FRAGRANCE & DYE-FREE • NO FILLERS • PARABEN & SULFATE-FREE • GENTLE • CRUELTY-FREE • RECYCLABLE PACKAGING
• FRAGRANCE & DYE-FREE • NO FILLERS • PARABEN & SULFATE-FREE • GENTLE • CRUELTY-FREE • RECYCLABLE PACKAGING
• FRAGRANCE & DYE-FREE • NO FILLERS • PARABEN & SULFATE-FREE • GENTLE • CRUELTY-FREE • RECYCLABLE PACKAGING
• FRAGRANCE & DYE-FREE • NO FILLERS • PARABEN & SULFATE-FREE • GENTLE • CRUELTY-FREE • RECYCLABLE PACKAGING
Reviews
Show off your results! Tag @oamskin #oamskin
20% Vitamin C Brightening Serum