TRI-C PRO-PEPTIDE COMPLEX™
Our Tri-C Pro-Peptide Complex™ uses a time-release delivery system to gently distribute micro doses of ultra-refined, non-irritating Vitamin C all day long.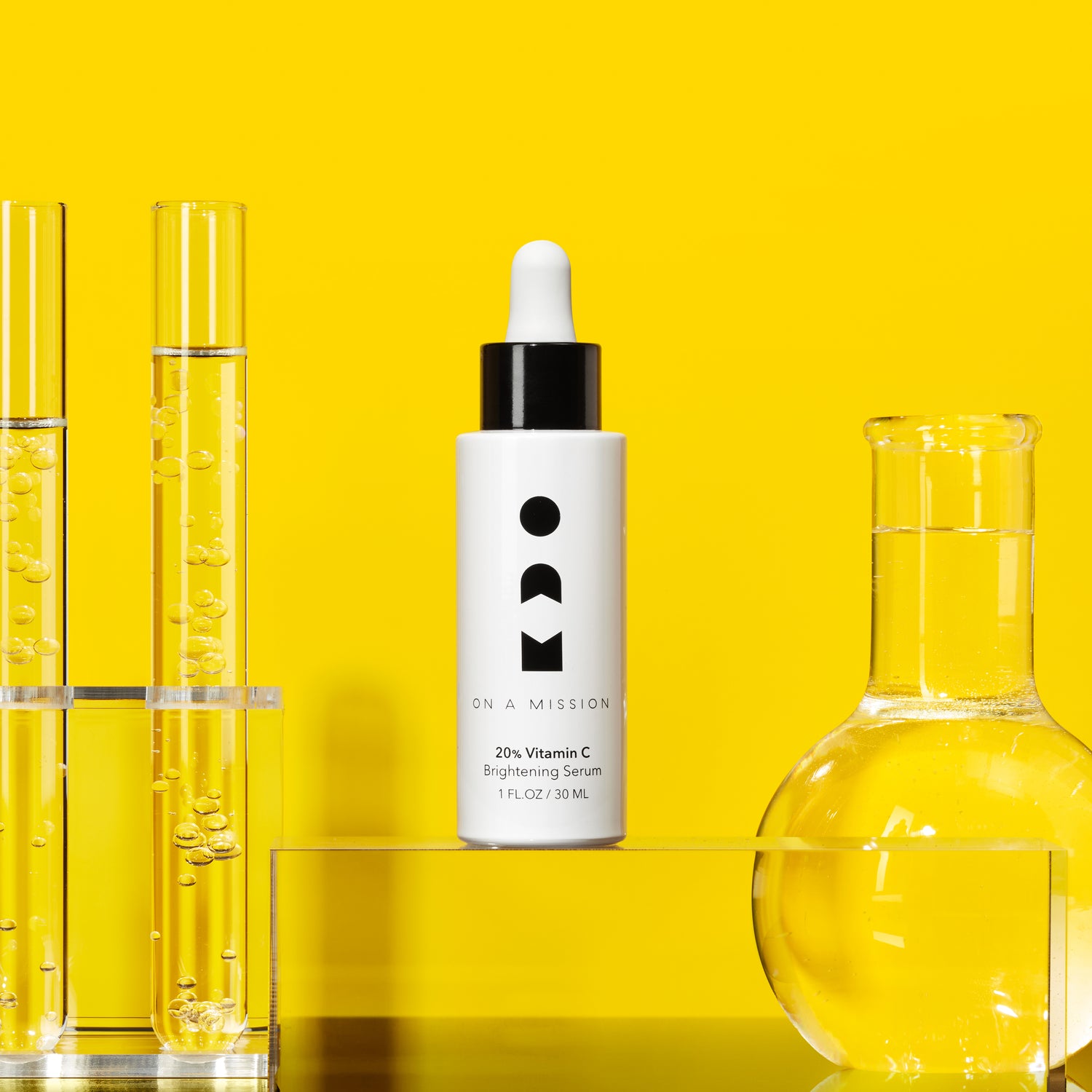 Our innovative formula combines peptides with three pure and stable forms of Vitamin C for triple layer benefits:

L-Ascorbic Acid – improves skin tone and provides antioxidant protection from free radicals - including those initiated by UVB and UVA rays.

Tetrahexyldecyl Ascorbate – penetrates the skin's surface to target uneven skin tone and brighten complexion, with anti-aging benefits.

Sodium Ascorbyl Phosphate – boosts collagen production and attacks free radicals to visibly smooth skin while evening skin tone.
BACKED BY SCIENCE
We are committed to clinical skincare, that is why we only use the best ingredients that meet our high standards in quality and skin safety. Developed by a team of leading skin experts, our clinically-formulated products are tested under dermatological control to ensure efficacy for all skin tones, types and concerns.
RESULTS YOU CAN SEE & FEEL

Gentle for all skin types
Soft, lightweight formula


Supports visibly brighter, more even skin


Improves skin texture and elasticity for softer, smoother skin


Improves skin health and hydration
THE RESULTS
97%

of users saw an immediate improvement in skin quality*

94%

said skin looked more even after 4 weeks*

97%

noticed visibly refined skin texture after 6 weeks*

showed significantly more luminous skin on a clinical scale after 8 weeks*
• FRAGRANCE & DYE-FREE • NO FILLERS • PARABEN & SULFATE-FREE • GENTLE • CRUELTY-FREE • RECYCLABLE PACKAGING
• FRAGRANCE & DYE-FREE • NO FILLERS • PARABEN & SULFATE-FREE • GENTLE • CRUELTY-FREE • RECYCLABLE PACKAGING
• FRAGRANCE & DYE-FREE • NO FILLERS • PARABEN & SULFATE-FREE • GENTLE • CRUELTY-FREE • RECYCLABLE PACKAGING
• FRAGRANCE & DYE-FREE • NO FILLERS • PARABEN & SULFATE-FREE • GENTLE • CRUELTY-FREE • RECYCLABLE PACKAGING
• FRAGRANCE & DYE-FREE • NO FILLERS • PARABEN & SULFATE-FREE • GENTLE • CRUELTY-FREE • RECYCLABLE PACKAGING
• FRAGRANCE & DYE-FREE • NO FILLERS • PARABEN & SULFATE-FREE • GENTLE • CRUELTY-FREE • RECYCLABLE PACKAGING
• FRAGRANCE & DYE-FREE • NO FILLERS • PARABEN & SULFATE-FREE • GENTLE • CRUELTY-FREE • RECYCLABLE PACKAGING
• FRAGRANCE & DYE-FREE • NO FILLERS • PARABEN & SULFATE-FREE • GENTLE • CRUELTY-FREE • RECYCLABLE PACKAGING
• FRAGRANCE & DYE-FREE • NO FILLERS • PARABEN & SULFATE-FREE • GENTLE • CRUELTY-FREE • RECYCLABLE PACKAGING
• FRAGRANCE & DYE-FREE • NO FILLERS • PARABEN & SULFATE-FREE • GENTLE • CRUELTY-FREE • RECYCLABLE PACKAGING
• FRAGRANCE & DYE-FREE • NO FILLERS • PARABEN & SULFATE-FREE • GENTLE • CRUELTY-FREE • RECYCLABLE PACKAGING
• FRAGRANCE & DYE-FREE • NO FILLERS • PARABEN & SULFATE-FREE • GENTLE • CRUELTY-FREE • RECYCLABLE PACKAGING
• FRAGRANCE & DYE-FREE • NO FILLERS • PARABEN & SULFATE-FREE • GENTLE • CRUELTY-FREE • RECYCLABLE PACKAGING
• FRAGRANCE & DYE-FREE • NO FILLERS • PARABEN & SULFATE-FREE • GENTLE • CRUELTY-FREE • RECYCLABLE PACKAGING
• FRAGRANCE & DYE-FREE • NO FILLERS • PARABEN & SULFATE-FREE • GENTLE • CRUELTY-FREE • RECYCLABLE PACKAGING
• FRAGRANCE & DYE-FREE • NO FILLERS • PARABEN & SULFATE-FREE • GENTLE • CRUELTY-FREE • RECYCLABLE PACKAGING
OUR SKIN MISSION
CLINICAL LEVEL HIGHLY PURIFIED SIMPLE STEPS ALL SKIN TONES